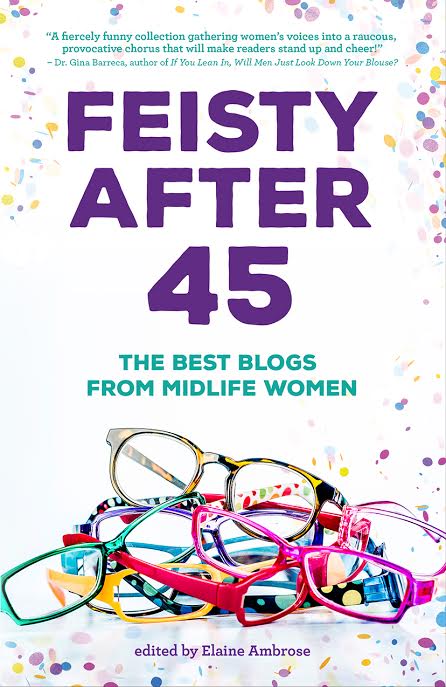 Eagle, ID – Mill Park Publishing of Eagle, Idaho announces the premiere of the anthology Feisty after 45 – The Best Blogs from Midlife Women. The book features 45 midlife authors from across the country and Canada, and topics include humor, inspiration, travel, and caregiving. More than 200 entries were received.
Mill Park Publishing features award-winning books written by women and organizes writing retreats and creativity workshops. The company's books have won 14 awards in the past 3 years, and a portion of the sales proceeds is donated to local charities. The anthology Little White Dress won the Bronze Medal for Women's Issues from the Independent Publisher Book Awards program in 2012. A humorous book for women titled Midlife Cabernet won two national humor awards in 2014, and Publishers Weekly wrote that the book is "laugh-out-loud funny."
Mill Park Publishing has enabled 70 women to become published authors. The company is owned by author and syndicated blogger Elaine Ambrose. Find more information at www.MillParkPublishing.com.
The paperback book Feisty after 45 retails for $12 and is available now on Amazon.com. The eBook version is $2.99 and available soon on Amazon, Nook, KOBO, IBooks, and Google Play.
Selected authors: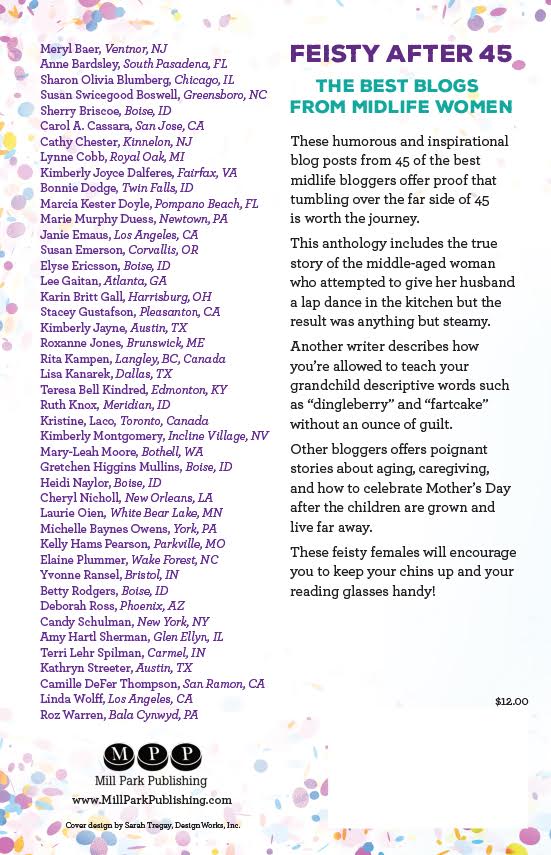 Meryl Baer, Ventnor, NJ
Anne Bardsley, South Pasadena, FL
Sharon Olivia Blumberg, Chicago, IL
Susan Swicegood Boswell, Greensboro, NC
Sherry Briscoe, Boise, ID
Carol A. Cassara, San Jose, CA
Cathy Chester, Kinnelon, NJ
Lynne Cobb, Royal Oak, MI
Kimberly "Kimba" Dalferes, Fairfax, VA
Bonnie Dodge, Twin Falls, ID
Marcia Kester Doyle, Pompano Beach, FL
Marie Murphy Duess, Newtown, PA
Janie Emaus, Los Angeles, CA
Susan Emerson, Corvallis, OR
Elyse Ericsson, Boise, ID
Karin Britt Gall, Harrisburg, OH
Lee Gaitan, Atlanta, GA
Stacey Gustafson, Pleasanton, CA
Kimberly Jayne, Austin, TX
Roxanne Jones, Brunswick, ME
Rita Kampen, Langley, BC Canada
Lisa Kanarek, Dallas, TX
Teresa Bell Kindred, Edmonton, KY
Ruth Knox, Meridian, ID
Kristine Laco, Toronto, Canada
Kimberly Montgomery, Incline Village, NV
Mary-Leah Moore, Bothell, WA
Gretchen Higgins Mullins, Boise, ID
Heidi Naylor, Boise, ID
Cheryl Nicholl, New Orleans, LA
Laurie Oien, White Bear Lake, MN
Michelle Baynes Owens, York, PA
Kelly Hams Pearson, Parkville, MO
Elaine Plummer, Wake Forest, NC
Yvonne Ransel, Bristol, IN
Betty Rodgers, Boise, ID
Deborah Ross, Phoenix, AZ
Candy Schulman, New York, New York
Amy Hartl Sherman, Glen Ellyn, IL
Terri Lehr Spilman, Carmel, IN
Kathryn Streeter, Austin, TX
Camille DeFer Thompson, San Ramon, CA
Linda Wolff, Los Angeles, CA
Roz Warren, Bala Cynwyd, PA